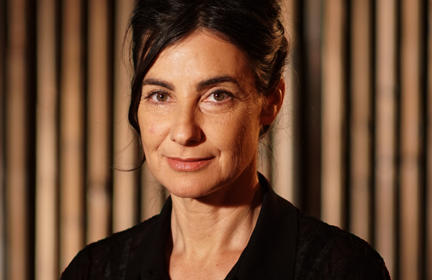 Noa Wertheim
Artistic Director, Choreographer and Co-Founder
A multi-talented artist Noa Wertheim is an internationally acclaimed choreographer and dancer and a numerous award winner, including the 1998 Israel Ministry of Culture award for young choreographers, the 2003 Landau Prize for the Performing Arts and the 2012 Israel Culture Minister award for her choreography of Birth of the Phoenix.
Born in 1965, in the USA, Noa grew up in Netanya, Israel, where she started dancing with Sarah Yochai at Esther's Studio. Although her religious upbringing delayed her pursuit of a dancing career, in 1990 she completed her studies at the Jerusalem Academy of Music and Dance. Noa performed with the Jerusalem Tamar Dance Company, where she met Adi Sha'al her partner in life and in dance. Together they founded the Vertigo Dance Company.
Reflecting her holistic and spiritual approach, Noa, whose name in Hebrew means movement, communicates through dance in a generous way inviting viewers and co-creators on an enchanted exploration journey. While further exploring human expression, emotions, behaviors and perceptions through movement her research has led her to the development of a distinct dance language through constant examination of innovative structures and forms, stretching the limits of the human body and awareness. Noa works and creates from the Vertigo Dance studio at the Gerard Behar Center in Jerusalem and from her home studio at the Vertigo Eco-Art Village.