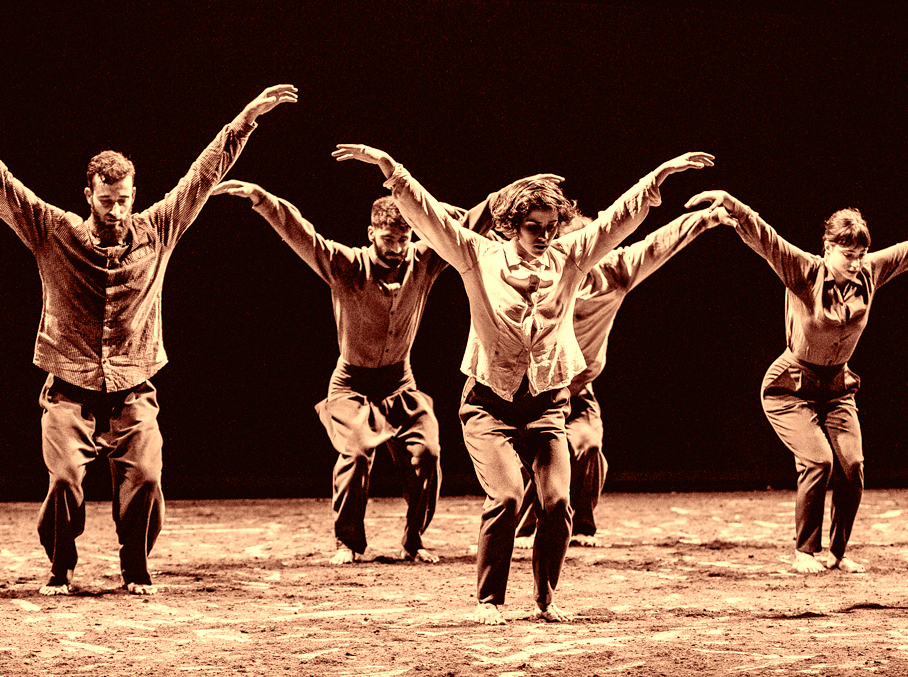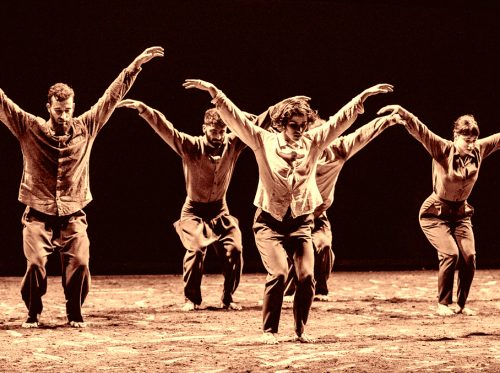 Ephemeralist. By Susan Yung
Vertigo's One. One & One at BAC
Hagar Shachal and Shani Licht. Photo: Stephanie Berger
Vertigo Dance Company had a two-night run at Baryshnikov Arts Center on Mar 5 & 6. It's a shame it wasn't longer so more New Yorkers could have had a chance to catch its wonderful piece, One. One & One. This Israeli company, led by Noa Wertheim, further burnishes the country's reputation for producing notable choreographers. And while each one furthers her/his own individual style, there seems to be a physicality, sensuality, and interpersonal connection in common.
At the start of One, a man pours dirt in lines across the stage as Shani Licht stands and begins to undulate and bend backward, her long hair grazing the floor. Three men approach her, divide her tresses in three, and by crossing over and under one another, braid her hair. Eventually all 10 dancers enter, and each struts downstage and throws the audience a look. Here, the varying score by Avi Belleli crescendoes into loud rock section as the dancers move with more urgency and violence. More dirt is spread. The first woman is joined by another; they face each other separated by only inches, and move in symmetry, highly sensitive and in tune. A woman charges across the stage at a man, flinging herself at him; this repeats. They slap their chests, legs bent deeply, summoning images of gorillas asserting themselves.
In groups of four, they soften their movement, sweeping their legs in circles in the now pervasive dirt, as the sound of muffled blasts combines with plangent guitar, evoking—as does the dance—violence and beauty. They ripple their bodies, energy phasing from head to toe; a woman runs figure 8s around her curves. They run backward, bent forward, arms flung up and out like a diving cormorant. Music that might accompany a line dance at a party accompanies big chassees, spins, and deep plies; one man is carried aloft by three mates as if seated. Hagar Shachal goads the men, lunging at them as if suddenly provoked, and they begin to chase her as she evades their grasp. They finally catch her and subdue her, pinning her down until she subsides fully.
Vertigo Dance Company in One. One & One. Photo: Stephanie Berger
A solo by Etai Peri features effortless, silky, upright movement, legs floating high, and a rippling torso. The dancers often evoke animals, moving individually, but sometimes en mass, communicating wordlessly and with physical cues. One man remains lying on the dirt as the group moves ensemble, beating their chests and leaping like frogs; the loner grabs one man's ankles as if to beg for a savior. The music swells like an orchestral film score, punctuated by twinkling keyboard notes. As the lights dim, the dancers recede, flapping their arms slowly.
Wertheim also established the Vertigo Eco-Art Village in Israel, a learning center that promotes sustainable, eco-friendly practices. This attention to one's surroundings and a heightened awareness and appreciation of the environment perhaps informs Wertheim's movement and the company members' interactions.