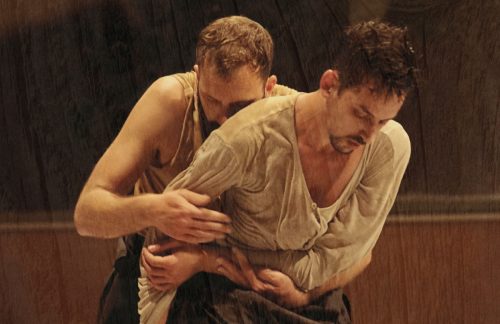 "From an Eco Art Village, a Dance About Community". BY Siobhan Burke, New York Times
Published Jan. 13, 2023Updated Jan. 16, 2023
The title of Vertigo Dance Company's newest touring work, "Pardes," is the Hebrew word for orchard, or garden of trees, from the Persian pairidaeza. Say it out loud, and its etymological connection to "paradise" is clear.
The consonants in "Pardes" are also an acronym in Jewish mysticism for four levels of interpretation of religious texts: "pshat," "remez," "drash" and "sod." While these can be characterized in a number of ways, some more convoluted than others, the company describes them on its website in fairly straightforward terms: as the literal meaning, hinted meaning, interpretive meaning and secret meaning of a text.
This framework for analyzing resonates even in a nonreligious context, especially in the practice of viewing contemporary dance, and especially contemporary dance of Vertigo's variety: not strictly narrative, but still hinting at some underlying story or drama. Watching this handsomely constructed yet occasionally contrived work, which had its New York premiere on Thursday at Baryshnikov Arts Center, you sense that the performers know more than we do about the weight of their relationships and their world.
Founded 30 years ago by Noa Wertheim (who choreographed "Pardes" in 2021) and her husband, Adi Sha'al, Vertigo resides at its own environmentally sustainable arts complex — what the company calls an eco art village — about 25 miles outside of Jerusalem. Carried along by the currents of Itamar Doari's original score, which opens with verdant strings and startling swells of percussion, the arrangements of eight dancers often depict a tightly knit, in-sync community, while calling to mind natural processes of growth and decay. Duets and solos zoom in on intimacies and inner landscapes within the larger ecosystem.
A group of six begins together within the three red-orange walls that frame the stage. (Zohar Shoef designed the spare set, which is lined with low benches to which the dancers later retreat.) In bunchy black skirts that add volume to already voluminous movement (Rosie Canaan is credited with styling), they step briskly side to side as their arms reach and fold into angular positions, like an encrypted gestural message. The slap of one foot against the opposite ankle, again and again, establishes a shared rhythm, a warm-up for more propulsive unison sections to come.
In the first of several sensual duets, Sian Olles and Korina Fraiman chase and flow around each other like water. Throughout the work's swift hour, softness and surrender permeate even the most daring moves, as when the strapping Micah Amos dives to the floor, catching air on the way down, or balances a fellow dancer on his shoulder. Like a meditation at times, the piece progresses with a remarkable ease, both in the dancing and the choreographic structure, yet a melodramatic undertow weighs it down; the dancers' subtly worried expressions can feel more superficial than born from within. (It's a relief when a few smiles peek through.)
Toward the end, however, "Pardes" takes a genuinely dramatic turn, as the mesmerizing Olles splinters off from the rest of the ensemble. In a solo that contrasts with previous glimpses of idyllic togetherness, she veers between stumbling and firmly rooting into the ground. When she holds a long, still balance on one leg, the other extended out to the side, it's with the fortitude of an ancient tree.
As Olles gravitates toward and away from the rest of the dancers, who huddle around her or hold her aloft, she has not been expelled, it seems, so much as drawn into her own dimension. Still, questions arise of how and why communities fracture. I was left with a thought that might fall into one of the more abstracted levels of interpretation: Paradise for whom?
Pardes
Through Saturday, Baryshnikov Arts Center, Manhattan; bacnyc.org