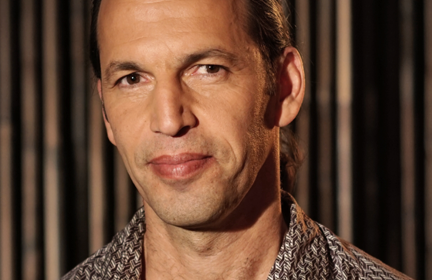 Adi Sha'al
CEO, Artistic Partner and Co-Founder
Incorporating his dance experience, Adi Sha'al is dedicated to the Vertigo Dance Association's common vision to further dance education, social culture and artistic excellence. Born in Haifa, Israel, his first stage experience was at the age of 17 when he joined a three month tour with the Friendship Caravan of the Israel scouts performing in front of Jewish communities around the USA. Following a year as a volunteer in the development town of Mitzpe Ramon he began his military service in the IDF aviation training course and later as an officer in the Golani Brigade.
He continued his dance studies at the Emek HaYarden Studios and the Kibbutz Dance Workshop and danced with the Batsheva Ensemble and the Jerusalem Tamar Dance Company where he first met Noa Wertheim. In 1992 they established the Vertigo Dance Company. As a dancer, Adi was awarded the British Council prize to participate in a professional training at the Place Theatre in London as well as numerous awards and critical acclaim.
Alongside his efforts to expand the Vertigo Dance Association's scope of activities, Adi is also an advisor to the Jerusalem annual Israel Festival, a member of the committee for Jerusalem culture institutes, a coordinator for the Jerusalem dance forum, a frequent guest lecturer promoting new initiatives and an avid coacher accompanying aspiring young artists in the field of dance.
Adi Sha'al and Noa Wertheim and their three children live in the Vertigo Eco-Art village where they continue to work to increase cultural, environmental and community awareness.