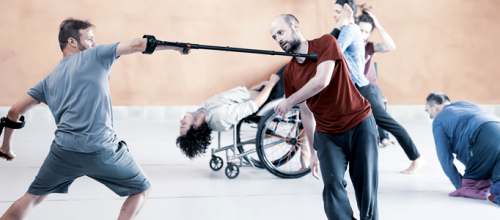 In Depth Program For Teaching Integrated Dance
Integrated dance training program 
Directed by Tali Wertheim and Hai Cohen
Vertigo Power of Balance, a unique center for Integrated Dance, offers a professional training program for those who wish to develop their skills, as dancers and teachers, in the field of integrated dance and Contact Improvisation.
Integrated Contact is a spontaneous dance, in which dancers of various physical  abilities, disabled and non-disabled alike, use physical communication, such as touch, direction, gravity and momentum to create a flowing movement.
Program directors, Hai Cohen and Tali Wertheim, developed a unique model of teaching,  based on an integrated team of teachers. The Vertigo Power of Balance training program will introduce this model and will focus on exploring various methods of teaching along with artistic contents of contact, improvisation, and choreography for integrated dance. The studies will provide in depth experience and valuable extensive tools to work with diverse groups, constructing a lesson plan for inclusive dance ,
Group dynamics and stage performance.
The program is open for people with physical disabilities and without disabilities.
Program Specifications
The program includes a full day of study, once a week:
Sundays 9:30-16:00
from October 2021 to June 2022
Tuition Fee: 6800 ILS
Vertigo Power of Balance integrated dance training program will be held at
the Vertigo Eco-Art Village in Kibbutz Netiv HaLamed Heh, Israel
Application for 2021-2022 academic year
For more information and registration you are welcome to contact us at
[email protected] / 050-9701699