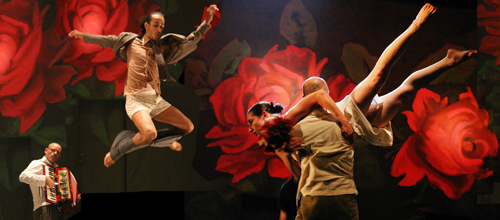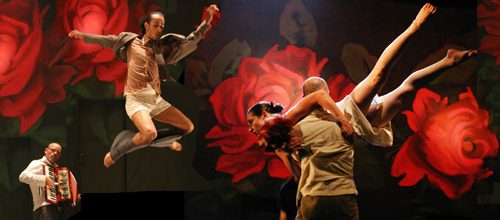 . A SPARKLING PERFORMANCE. ORI J. LENKINSKI
With the new secular year just in, many of us have stopped to take a look back at our past accomplishments. For choreographer Noa Wertheim, 2011 is both a year of creation and a year of retrospection. Her troupe, Vertigo Dance Company, which she runs with her life partner Adi Sha'al, is currently performing several of Wertheim's choreographies around the country.
And at the same time, they are busy in the studio, developing new ideas.
This month, Wertheim has revived Vertigo and the Diamonds. The piece was premiered six years ago and is a collaboration of Sha'al, Wertheim, composer Ran Bagno and the rock group The Diamonds. In the coming season, the company will perform Vertigo and The Diamonds nationwide.
In the past half decade, all parties involved have undergone major changes. The musicians playing with The Diamonds have left and been replaced, much like the dancers of Vertigo. Nevertheless, the show remains true to its original form, explained Wertheim in a recent interview with The Jerusalem Post.
Perhaps the most extreme element of Vertigo's evolution since the creative process for this piece is their relocation to Kibbutz Nativ Halamed Hey. Moving toward a more ecological lifestyle, Sha'al and Wertheim transferred a large part of the company's activities from their Jerusalem studio to their large, open workspace some 30 minutes south of the city. There, the dancers use ecological toilets, drink rainwater and rehearse within four mud walls.
Although their surroundings seem to have gotten softer in some ways, Wertheim's work has taken a turn for the morose. Both of Wertheim's most recent pieces, White Noise and Mana, have had an intensity and seriousness that is new to her. Trading the vibrant red costumes of Birth of the Phoenix for black robes designed by Rakefet Levy for Mana, the atmosphere on stage has gone dark.
"In the past few years I have made heavier and heavier pieces," said Wertheim. "To go back to The Diamonds was a celebration for me and for the dancers. Every time they start dancing, there is this joy emanating from their bodies." Vertigo and The Diamonds is a theatrical work that touches on relationships, jealousy and the need for attention.
"The piece touches on all the senses and, most of all, it is fun. I think that is hard to achieve in modern dance, fun," Wertheim went on. "It's also great fun to perform with live musicians. For the dancers, working with live musicians is one of the most inspiring things."
At present, Wertheim is at the beginning of a creative process for a new work, which will premiere officially in November at the Suzanne Dellal Center. She does not yet know if this new opus will have the lighter, sillier atmosphere of Vertigo and The Diamonds or if it will continue the line of her recent endeavors.
"When I create," she said, "I don't plan how it will come out in the end. I have no idea. We have just begun to build the music, to get into creating material. But really, I don't know what it will be yet, not at all