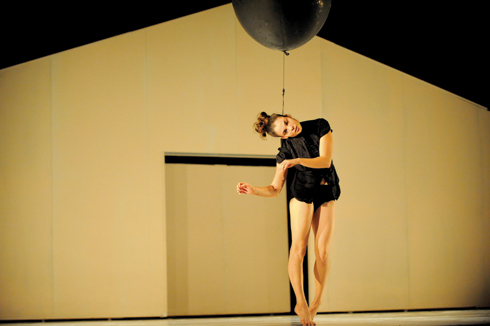 Vertigo Dance Company and Noa Wertheim Host. Elad Shechter
When I called Adi Sha'al and Noa Wertheim, who direct the Vertigo Dance Company, they had just landed in Israel after an appearance at the General Assembly of The Jewish Federations of North America in Washington D.C.  There they had presented an excerpt from Wertheim's Mana, which will be officially premiered in Curtain 2 along with Elad Shechter's Roni.  I chatted with the couple about their U.S. trip and their experience with Curtain Up
Dance In Israel: How was your time at the General Assembly?
Adi Sha'al: People were very moved by Vertigo's performance, and people came [up to us] afterwards, after they were clapping hands for a long time and standing up – some people even with tears.  We also talked about our social vision of the company and the Eco-Art Village . . . And we also did workshops and created connections with dance companies in D.C.
DII: What is your relationship to Curtain Up?
AS: It's been a good relationship.  Vertigo [Dance Company] has been around for 17 years now, and all of our first shows were under this title, under Curtain Up.  We owe a lot to this institute.
DII: What drew you and Noa to select Elad Shechter to be the choreographer for this program?
AS:  Elad used to be a dancer in our company, so we've known him for several years now.  Once Nilly Cohen [director of the dance department in the Culture and Arts Administration] and the people at Haramat Masach came with the idea of coaching, we said basically the only one that we can really coach and we can say that it will be real for us is somebody that we know, somebody that we have a dialogue with.
AS: In a way, we are marking here two companies.  One is the main company which Noa is doing a piece for, and the other one is the young company, the Vertigo Ensemble, which Elad is doing a work for, and it's [all] happening in Vertigo's studios under the umbrella of Vertigo's production.  And we [work with] the same co-artists.  Ran Bagno is making the music for both pieces; he's a musician we've been working with together many years now.  Danny Fishof, he's our lighting designer; he is doing the lighting design for both pieces, Mana and Roni.  And the costume designer is Rakefet Levy; she's doing both pieces.  So we feel like it's a production house called Vertigo, and it's very exciting for us to do these two things together side-by-side in the same evening.
DII: Noa, can you tell me a bit about where Mana came from?
Noa Wertheim: I like to work from the movement, and I never have a clear idea, but I do have a certain attraction to something.  This time, the line and the circle came straight away.  After I was dealing with Ra'ash Lavan [Noa's previous work, White Noise], where gravity was so important, it was different to work with the shapes.