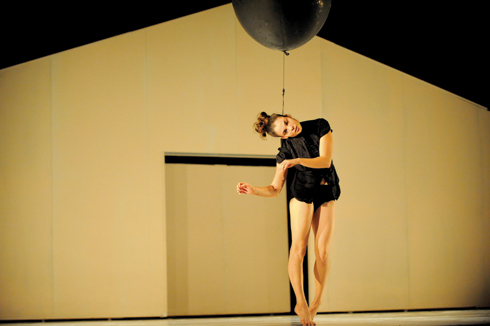 Vertigo Dance Company review: Another Israeli powerhouse lights up White Bird. Catherine Thomas
White Bird's growing roster of exceptional Israeli modern dance companies has a new heavy hitter. The North American premiere of Vertigo Dance Company's "Mana, Vessel of Light" is an hour-long study in duality – masculine and feminine, interior and exterior, forceful angularity against spiraling ritualism – choreographed by artistic director Noa Wertheim and arrestingly danced by her eight-member ensemble.
Wertheim's title draws from the shattering of the primordial light depicted in the Zohar, the ancient text of Jewish mysticism, and early on, the earthy tribalism of the ensemble in unison suggests ceremonial surrender and physical transcendence. That religious subtext quickly fades. Wertheim is very much of the modern Israeli dance aesthetic; there's a shared sensibility with the rich theatricality of Barak Marshall, the ecstatic ritualism of Ohad Naharin, the florid surrealism of Inbal Pinto. Like those powerhouses, Vertigo marries sharp abstraction to mind-teasing, sophisticated stage design.
The barest sketch of a house, like a child's simplistic drawing, looms at the back of the stage. Over the course of the dance, it becomes animate, advancing and turning and receding, a mute and imposing framework into which dancers dissolve and then reappear. But it's the dance, not the set, that holds the eye, at least until its jarring finale.
"Mana" begins with a single male dancer in layers of monk-like robes, feet firmly planted on the darkened stage, folding and slashing his arms in frantic cycles, fists to the sky. A kneeling onlooker, also robed, rises to join him, building an ecstatic rhythm in rocking sideways steps. Ran Bagno's hypnotic score seems to float in the distance. The pair are a flurry of motion and stillness, extreme leans and backbends on the floor, so riveting that it's startling to notice the door of the house has opened to reveal dancers meditatively walking interior passageways.
There's an ecclesiastical solemnity to the growing cluster of dancers, clad in the long dark folds of Rakefet Levy's exquisite costumes, circling, bending and stretching in silent unison. Palms out, snaking their bodies into curving crouches, the dancers' movements seem to pulse as one collective organism. Unison is rarely this compelling on the modern dance stage, and Wertheim punctuates it with splinters of opposition flicking out in small gestures, gradually building to fervent spirals, barreling leaps and partners flipping over shoulders, adrenaline-fueled pure form circling back into an earthy vernacular.
"Mana" takes a turn to the surreal with the appearance of Rina Wertheim-Koren (Noa Wertheim's younger sister) as a mechanical doll on tiptoes, her shoulders tethered to a black helium balloon. Against the shrouded ensemble, she's all skin, long legs prancing and scissoring out, barely appearing to touch the stage.
From there, "Mana" evolves into an uneven juxtaposition of sacrament and martial arts, stylized sparring and sharp thrust and recoil against social dance and contact-improv manipulations. At its worst, it becomes an exaggerated, unoriginal take on gender wars, relegating the women to defiant or clinging foils against the militaristic kicking and stepping of the men.
By the end of the dance, the score has gone from meditative lullaby to hallucinatory carnival to rave-like electronica, and the choreography from abstract ritual to vamping dance club attitude. There's not a weak link among the dancers in terms of technique, but as a culmination of intriguing ideas, it's woefully anticlimactic. Just a hint of the old-time score trickles in to the clubhouse atmosphere, a time warp to when the unison of the dance seemed to be saying something more universal, more powerful than movement for movement's sake.