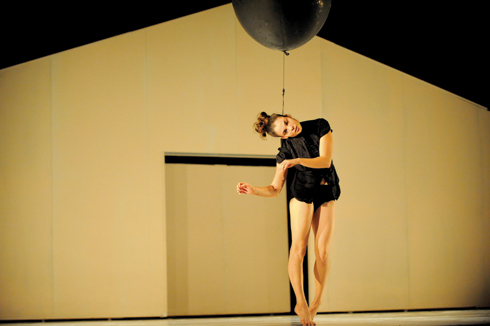 Vertigo Dance Company.HEATHER WISNER
Those new people in that big white house, the ones who keep coming and going and gathering out front—what are they doing, exactly?
As it turns out, they are Vertigo Dance Company and they're just visiting for the weekend. They've come all the way from Jerusalem to share a contemporary dance piece called Mana, Vessel of Light with us, and this is their first time on the West Coast, so we should be hospitable—maybe bring them a fruit basket.
But first, let's talk about Mana, a remarkable work that choreographer Noa Wertheim has made, according to program notes, from "unique movement composed of a spiral structure that gathers energetic momentum …" There's more, but that's a good starting place. Mana—which takes place in and around a set designed to look like a large white house—does indeed have a spiraling motif. Some of that comes from the individual movement of these well-trained dancers, including wonderfully fluid recurring torso rolls that initiate at the waist and undulate up through the top of the head. There are also sweeping flexed-foot barrel turns, beautifully executed by men in long tunics, skirts and wide-legged trousers that wing out to the sides, expanding the movement's radius. These, in turn, are done in larger group circles, as are big waltzy duets between the company's four men and its four skirt-and-headscarf-wearing women.
The circular motif is punctuated by ritualistic and gestural movement, duets in which the dancers roughly manipulate their partners' limbs and features, and a section in which the performers, performing in bright spotlight, cast long dancing shadows of themselves across the house's front. Occasionally, a girl in short shorts slinks along the back of the stage carrying a large silvery balloon.
Who these people are, and what their relationships are to one another, is subject to debate. The plain costumes and intensely focused movement bring various international personages to mind, from whirling dervishes to Buddhist monks. The no-frills set and the music, which incorporates march and waltz rhythms into an echo-y klezmerish score, suggests something more like kibbutz dwellers. Taken as a whole, this place and its inhabitants could reflect the multicultural crossroads that is Israel. Whatever you may take away from it when you leave, Mana, Vessel of Light is a mesmerizing hour of dance—and a visit worth paying.